And EIGHT, EIGHT, I FORGET WHAT EIGHT WAS FOR.
Hi. I'm really happy in general because a few days ago I hung out with two of my best friends, and we saw the The Way, Way Back (so amazing). Then one of my friends and I made my other friend go up to the front of the theater and play the ukulele, which was hilarious and cool. After that, we just did a ton of things and it was probably the best day of the summer so far for me. Obviously there are other things going on, blah blah blah, getting ready for high school while trying to hold on to summer as it trickles through my fingers like sand, but it was still superb.
I know, I know, my room is so messy right now. I'm currently cleaning it out and replacing my dressers and bed/bedspread, hence the clutter. The shirt is from H&M, the badge is homemade/DIY, and the skirt is vintage. I wore a great pair of gold/metallic sandals with it today but I didn't have the energy to bother to put them back on for the picture.
I made this badge myself when I FINALLY figured out how to make them without gluing my fingers together before I even but the picture on.
(CALL ME, Debbie, and you can tell me how to be cool because I am obviously failing at that right now.)
I got this great Heathers-quoted button from Etsy and it is one of my favorite things ever. I also ordered this collar harness from Etsy as well, and a funny-because-it's-true shirt from American Apparel, which I usually don't do because it sometimes tends to be expensive (i.e. $24 for a plain T-shirt), but I thought it would make me Leandra Medine really liked its message and agreed with it.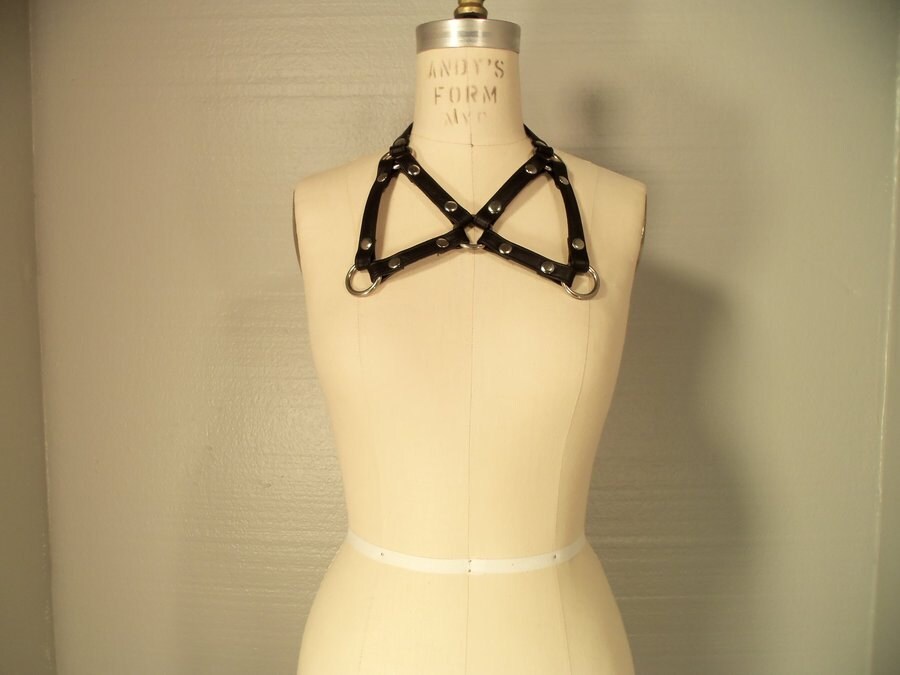 (ze aforementioned collar harness)
Things are great. Today Lula (who said she would punch me in the face if I took a picture of her for this here blog) and I went thrifting, and we found nothing worth buying EXCEPT for this cool wedding dress that was two or three dollars that Lula bought. It looks a lot like this one, and it even came with the veil, which Lula hung over her bedroom door. When you look through it, it makes the entire room look like Narnia/a fairy blessed it.
There are not MAGAZINES, they're my bibles. Seriously, I bought them because I liked a few articles in each too much to leave them behind and now I am reading them religiously. (Both of them feature Grimes, so that doesn't hurt.) They're both serving as great style guides and help me process my thoughts better. They help me think of different things, because if I only rely on the Internet to help me do that then I will drown in a sea of pastel pink and soft grunge and euuuuuugh. Reading The Man Repeller and going on Hel-Looks helps, too, so I've been buying more clothes lately and am actually excited about wearing them. I've been more inspired to dress like this woman & personifying Rei Kawakubo & Yohji Yamamoto's clothes/creating characters and stories for them. I like the idea of maximalism and deconstruction together, especially since I've never been a big fan of minimalism. (My mother is the minimalist of our family, though, and she wears it well, better than I would if I tried to. She is basically the personification of Alexander Wag + Helmut Lang.)

Tomorrow I'm going to Governor's Island with my mother, and I'm not 100% what to wear because it's hard to be a suave maximalist with hints of Rei when there are swing sets and dirt and sand everywhere you turn. What is your idea of the ideal island outfit? Let me know in the comment section.
I will leave you with this GIF of Leandra Medine (made by the Man Repeller herself), and you will never regret seeing it: