The title of the post is true. One day my closet and my dresser are going to team up and just vomit clothes all over my when I'm sleeping. And I always say "Well, I don't need anymore clothes, I'll just be humble and appreciate what I have, blah blah blah, insert quote from a nagging old fart-you all know one-etc., etc." But then I go somewhere and I see something that I stand in front of, staring and drooling like some kind of post-apocalyptic zombie, and then I grab it and buy it. And then I get home and shove it in my closet or dresse and forget about it. Which would probably explain why my closet and dresser are both about to explode like one of those paper-mache volcanoes that we've all seen at school science fairs. This truly is unavoidable and cannot by stopped by things like spring cleaning or back-to-school cleaning because I only end up removing one or two shirts and maybe-if I'm lucky-a skirt or dress that I've grown out of. Yet here I am on the internet, "window shopping"-i.e. going on websites with clothes, which I guess would be "screen shopping?-and buying basically everything on Etsy. Etsy is probably in cahoots with my closet. It keeps tempting me with zines and jewelry and muumuus from the '60s. Peer pressure, Etsy, peer pressure!

Moving on-notice my smooth transition into a different topic other than my murderous bedroom-I am obsessed with Hel Looks. The people on there have the most amazing outfits ever! It's cool that they feature older people, too, because there are numerous cases where they have the best style.
Does anyone else notice and love how sailor-y her cardigan is? The colors in this outfit are too great. I'm going to scour New York until I can find the right things to make an outfit based on this-but not exactly like it, more like based on the IDEA of it. (Or better yet, I can look through my closet, if it's willing to agree not to kill me when I open it.)
Does she remind anyone else of Boy George? Especially in the "Karma Chameleon" video. And after seeing this picture, I officially need ruffled socks. I was doubting how much I needed them before but now I realize that they complete me and a whole bunch of other cheesy lines. But really, they go with everything! Even Converses!
The skirt reminds me of the gray skirt/shorts thingamajig that I had in a previous post. But hers in longer and actually identifiable and the material just looks like something a cat would lovingly attack (because for some reason, cats have a habit of ferociously attacking things that they like). And there are combat boots peeking out from under there (what wonderful skills of observation I have!). So basically, I am sold on this outfit just as much as I am sold on ruffled socks.
I think I like this outfit as much as I do because the girl in the picture-her name is Adele-said that she likes and is inspired by Twin Peaks. And the red dots on each side of her face are particularly great-I'm starting to run out of adjectives because I'm trying not to resort to words like "cool" and "awesome" because I just don't like to overuse them, especially in these posts-because 1. they aren't right in the middle of her cheeks so she doesn't look like she's in the circus and 2.they're small, which to me makes them more noticeable and helps them fit in with the outfit more. I can't remember if she said she was wearing a dress or skirt underneath the denim shirt and frankly, I'm too lazy to go surf the website looking for her picture/caption, but either way it's awesome and I think I might make a skirt in a similar print. Her shoes are '50s-ish and make me think that Audrey Horne would wear something like them.
This outfit stood out to me because it's so 1950s! I think that the girl/woman in the picture didn't want to go for "full-on '50s flashback" so she tossed the saddle shoes and put on a pair of regular sneakers instead. Th skirt is amazing, but I'm biased because of the pleats. It could've been puke-green and I still would like it. The navy color mixed with the pleats are just perfect, though.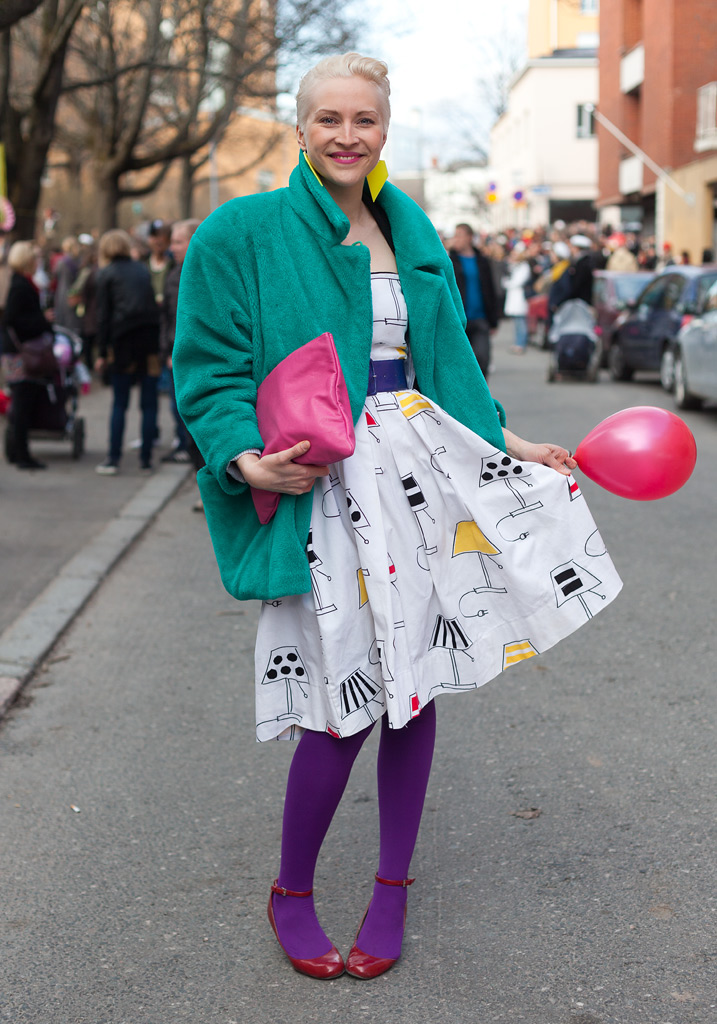 This is really Ab Fab-ish! (I didn't even know about "Ab Fab" until I read a post about them on Ariel's blog (to read the post, click here). But they're too cool to not go on a full-on rant about them, so I'll just include a picture-actually, two pictures-so that you can see.
I only realized today that these two are the ones in the Alexis Bittar ads!
But back to the outfit! It's so "Ab Fab" + 1980s (because of the bright colors and her jacket). Her haircut goes hand-in-hand with the overall gist of the outfit. There are so many different colors at the same time yet she doesn't look like she accidentally walked into a game of paintball (actually, that would be quite cool).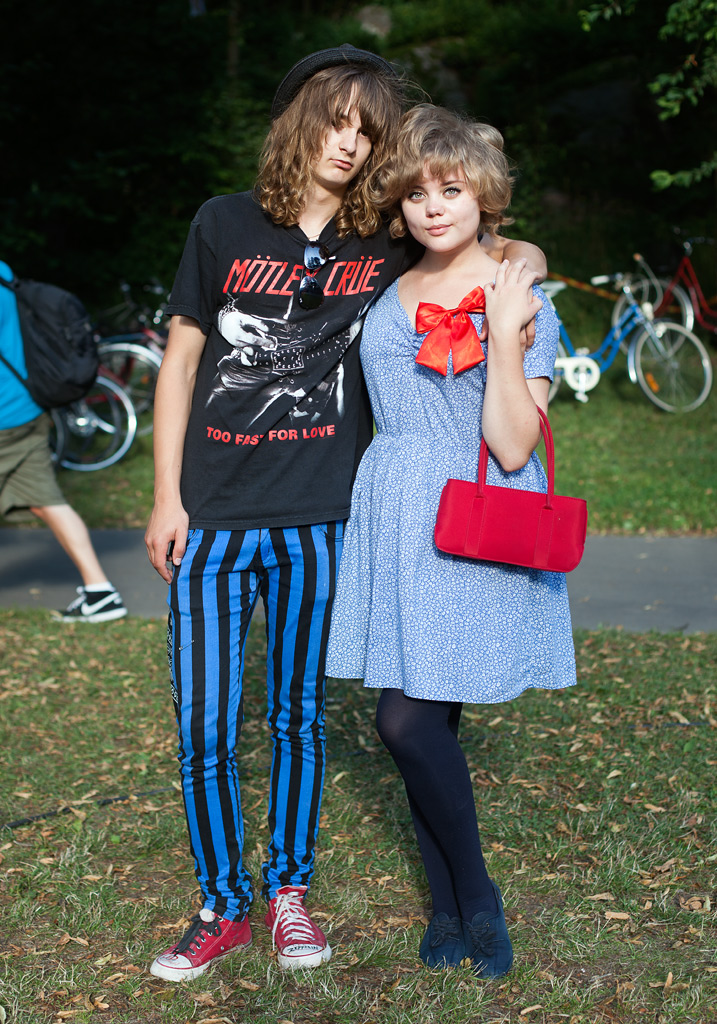 Their outfits are superb. I just had to add this because of 1.his hair 2.his pants 3. her bow & 4. her bag.
Also, his hair.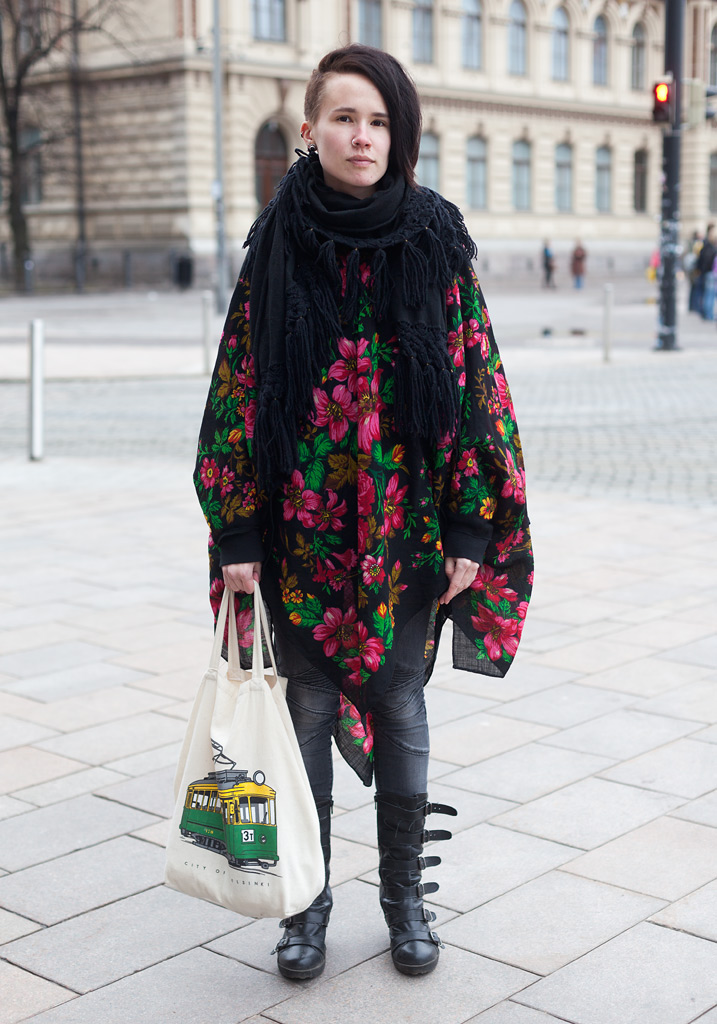 Her jacket reminds me so much of one that I saw from Comme des Garcons! In the defying-dimensions sort of way, and the pattern. Her boots are the apple of my eye. (if only my writing teacher could see me using cliches. That would = a lecture, most likely. So shhhhhh.)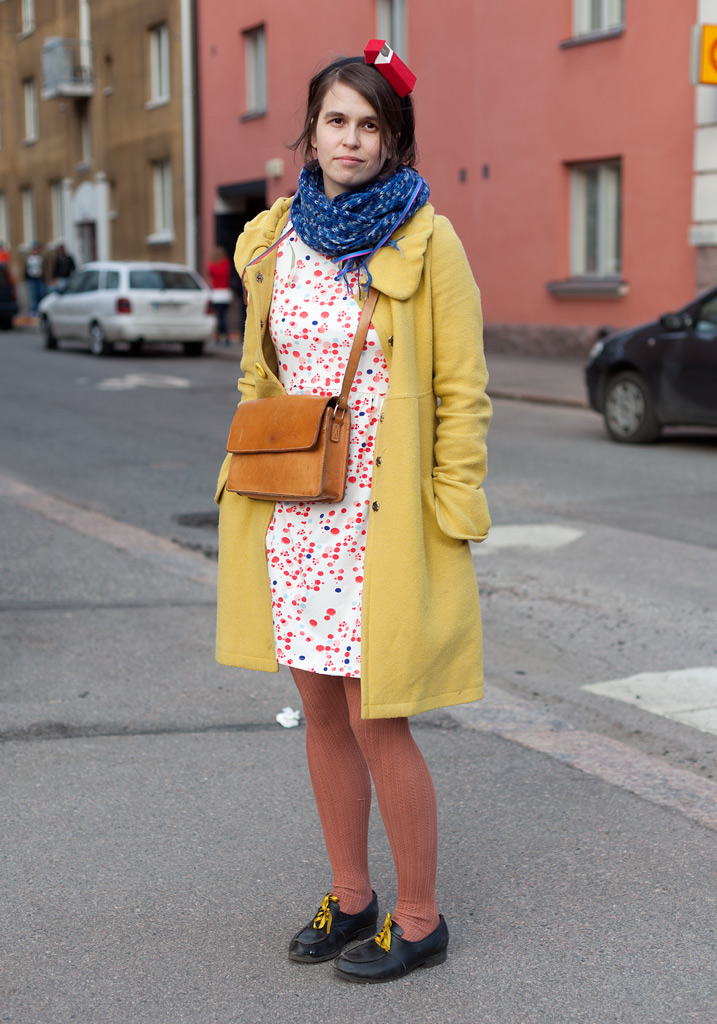 Her HEADPIECE. I can't get over it. Could this be love at first sight? It's so magical. I mean, I'm obsessed with her entire outfit, but the HEADPIECE. It's truly amazing. Wow. I'm going to try to move off my obsession with her headpiece-which has now joined ruffle socks in my "stuff I'm obsessed with" club-and talk about the rest of her fabbity-fab-fab outfit. I love the shape and color of her coat; the collar is just great, and the color is crisp yet not too bright or too light. It's sort of that perfect in-between color. And her shoooes. I would've liked them either way, but then they had those yellow laces and just tied up the entire outfit.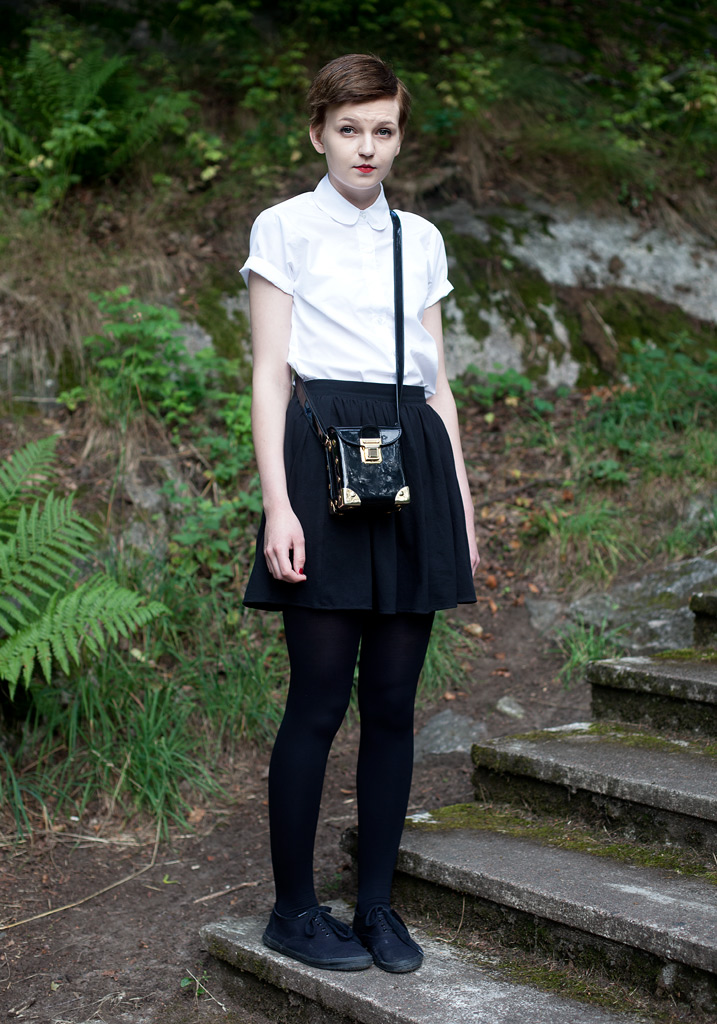 She's just so 1960s. She, whose name is Miia, even described herself that way. She sort of reminds me of Twiggy. Maybe it's because I have the era stuck in my head now, but I guess it's just the haircut and the great style that stood out to me and made me think of her. The hardware bag is something that I've seen in different stores lately and thought about getting but I could never think of ways to make it look unforced in outfits. I just admire everything about this look.
I wanted to post more but I already bombarded you guys with all of these pictures and if I didn't want to sit typing away at my computer for the next decade, I would post all of the pictures from Hel-Looks here with commentary. But alas, I do not want to be a hermit typing away crazily for the rest of my life. I would like to be able to utilize that decade to clean out my closet and dresser before they drown me with clothes.

Yours truly,
Britney
Photo credits to Hel Looks and Ariel from Quite Couture.